JOHN DEERE T670i grain harvester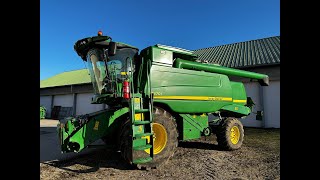 1/42
Location
Hungary
Szeged
Buy by leasing
Get an offer to buy a vehicle by leasing
Need delivery?
Calculate the cost of delivery
SPECIFICATION:
Year: 2015
Engine hours: 3194
Drum hours: 2291
Hectars done: 7094 ha
Horsepower: 430 Le
Number of cylinders: 6
Type of engine: John Deere 9000cm3, 6 hengeres
Transmission: ProDrive
Max speed: 34km/h

CAB:
Air suspended Grammer comfort seat
Passenger seat
10 inch (26 cm) GS2630 touch screen display
Digital display on the corner post
Premium radio package
Automatic air conditioner
Active fridge
Storage compartments
Cup holder
Roller blind
Electrically adjustable external mirrors

TIRES:
800/65R32 MICHELIN
480/80R26 MICHELIN

TRAILER HITCH:
Trailer hitch

LIGHTS AND ELECTRICITY:
8 work lights on the front
2 work lights on the rear
6 db oldalsó munkalámpa
Work light on the unloading auger
3 beacon lights
Reversing camera + reversing whistle
License plate lighting
Battery isolator

AMS:
Full AutoTrac package (StarFire 3000 receiver, GS3 2630 display)

ATTACHMENTS:
7,6m 625R header
Folding dividers
Crop lifters
Trolley
Grain and corn concaves
Rape extension (Zürn)
Rape side knives

OTHERS:
4WD 4-wheel-drive!!!
Dual range cylinder drive
Yield and moisture measurement system
Chopper
Electrically adjustable sieves
Long unloading auger

In a spared condition! Since its new age, the machine has been maintained only by the specialists of KITE Zrt.Hungary, Exclusively with factory parts. When the farmer bought the machine as a new one, he also added a full 5-year service pack to make any service on time! A combine that can be put to work immediately, in excellent condition!

The machine was advertised by Agro Partner Magyarország Kft. Contact us for more high-resolution images.

The description is for information only. We reserve the right to make changes, errors and misspellings.
Részletes specifikáció:
Gyártási év: 2015
Motor üzemóra: 3194
Cséplő üzemóra: 2291
Teljes terület: 7094 ha
Motorteljesítmény: 430 Le
Hengerek száma: 6
Hengerűrtartalom: 8984 ccm
Motor típusa: John Deere
Sebességváltó: ProDrive
Maximális haladási sebesség: 30 km/h

Fülke:
Légrugós Grammer komfortülés
Dönthető, párnázott utasülés
10 colos (26 cm-es) érintőképernyős GS3 2630 kijelző
Digitális kijelző a sarokoszlopon
Prémium gyári rádiócsomag
Automata klímaberendezés
Aktív hűtőszekrény
Tárolórekeszek
Pohártartó
Napellenzőroló
Elektromosan állítható külső tükrök

Felni és gumiméret:
800/65R32 MICHELIN első gumizás
480/80R26 MICHELIN hátsó gumizás

Vonószerkezet:
Automata vonófej

Világítás és elektromosság:
8 db első munkalámpa
2 db hátsó munkalámpa
6 db oldalsó munkalámpa
Munkalámpák az oldalburkolatok alatt
3db Sárga villogó
Tolatókamera a GS3 kijelzőn megjelenő képpel
Rendszámtábla világítás
Tolatósíp

Automata kormányzás:
Teljes automata kormányzás SF2 jelpontossággal (StarFire 3000 antenna, GS3 2630 monitor)

Tartozékok:
7,6m-es 625R vágóasztal
Csukható rendválasztók
Kalászemelők
Pótkasza sor
Forgózsámolyos szállítókocsi
Gabona és kukorica kosár
A géphez felár nélkül tartozik egy gyári, ZÜRN repcetoldat, kétoldali oldalkaszával!

Egyéb információk:
4WD összkerékhajtás!!!
Doblassító
Hozam és nedvesség mérő, hozamtérképezés
Szecskázó
Elektromosan állítható rosták
Hosszú ürítőcsiga
Megkímélt állapotban! A gépet új kora óta csak a KITE Zrt. szakemberei tartják karban, kizárólag gyári alkatrészekkel. Amikor a gazda a gépet újként megvette, akkor egy 5 évre szóló teljes szervízcsomagot is vett hozzá, agy biztos, hogy minden időben el lett végezve a gépen. Akár azonnal munkára fogható, kiváló állapotú kombájn!

LÍZING: Kedvező Széchenyi lízingre is, FIX, FORINT alapú kamatozással
GÉPTÖRÉS ÉS VAGYONBIZTOSÍTÁS: Szinte minden kockázatra kiterjedő, egyedi géptörés és vagyonbiztosítási konstrukciók is igénybe vehetők.

A gépet az Agro Partner Magyarország Kft. hirdeti! Több, nagy felbontású képért keressen Bennünket elérhetőségeinken.

A leírás tájékoztató jellegű. A változtatás, tévedés és elírás jogát fenntartjuk. Jelen hirdetés nem minősül ajánlattételnek.

GÉP – LÍZING – BIZTOSÍTÁS – FUVAR
Important
This offer is for guidance only. Please request more precise information from the seller.
Safety tips
Seller's contacts
Somorjai Gábor
Languages:
English, Hungarian
Hungary, 6710, Szeged, Fehérpart utca 4
Seller's local time: 16:05 (CEST)
Selling machinery or vehicles?
You can do it with us!