NEW HOLLAND CSX 7060 + NH20 header grain harvester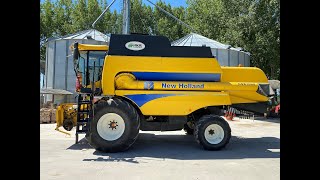 1/42
Location
Hungary
Szeged
Additional equipment
Combine header
reaper grain
Need delivery?
Calculate the cost of delivery
Specification:

Year: 2009
Engine hours: 4165
Operating hours: 2974
Hectars done: 5584 ha
Type of engine: IVECO CURSOR 9
Number of cylinders: 6
Displacement: 8700 ccm
Engine power: 270 Le
Maximum travel speed: 25 km / h
Gearbox: Hydrostatic, 3 speed
NO AdBlue!

CAB:
Air suspended GRAMMER seat
Tilting, padded passenger seat
Blaupunkt radio with CD
Air conditioning
IntelliWiew II colour monitor
Cab light
Digital display on the corner
Electrically adjustable exterior mirrors
Openable window ont he right

TIRES:
800/65R32 Good Year
460/70R24 Good Year

TRAILER HITCH:
Manual trailer hitch

Lighting and electricity:
Battery isolator
Beacon lights (2 pcs)
8 front work lights
4 rear work lights

AMS:
Subsequent universal automatic steering is possible

ATTACHMENTS:
NH20 grain header (6,1m)
Ziegler rapeseed with right knives
Trolley
Grain and corn basket

Others:
Mumber of strawalkers: 5
Thresing drum speed range: 400-1140
Chopper
Openable / closable grain tank
Manually adjustable sieves
7500 liter grain tank
580 liter fuel tank

Transfer deadline from: 01.11.2022!!!

From the first Hungarian owner, in a spared condition!

The machine was advertised by Agro Partner Magyarország Kft. Contact us for more high-resolution images.

If you have any questions, please don't hesitate to contact us.

The description is for information only. We reserve the right to make changes, errors and misspellings.
Részletes specifikáció:
Évjárat: 2009
Motor üzemóra: 4165
Cséplő üzemóra: 2974
Összes hektár: 5584
Motor típusa: IVECO CURSOR 9
Hengerek száma: 6
Hengerűrtartalom: 8700 ccm
Motorteljesítmény: 270 Le
Sebességváltó: Hydrosztatikus 3 sebességes
Maximális haladási sebesség: 25 km/h
NINCS AdBlue!

Fülke:
GRAMMER légrugós vezetőülés
Dönthető, párnázott utasülés
Dőlésszögében állítható kormányoszlop
CD-s rádió
Digitális kijelző a sarokoszlopon
Elektromosan állítható külső visszapillantó tükrök
Fülke megvilágító lámpa
Hűthető tárolórekesz a fülketetőben
IntelliWiew II színes monitor
Klímaberendezés
Nyitható teleszkópos jobb oldali ablak
Szivargyújtó aljzat

Felni és gumiméret:
800/65R32 Good Year első gumizás
460/70R24 Good Year hátsó gumizás, híd nyomtáv állítási lehetőséggel

Vonószerkezet:
Vonófej

Világítás és elektromosság:
Áramtalanító kapcsoló
Sárga villogó (2 db)
8 db első munkalámpa
4 db hátsó munkalámpa
Elektromos dobhézag és szelelőventilátor állítás a fülkéből

Automata kormányzás:
Utólagos univerzális automata kormányzás kiépítés lehetséges

Tartozékok:
NH20 gabonaasztal (6,1 méteres)
Ziegler 6,1 méteres repcetoldat hidraulikus jobbos oldalkaszával
Szállítókocsi
Gabona és kukorica gyorsító kosár

Egyéb információk:
5 ládás kivitel
Állítható dobfordulat: 400-1140 ford./min
Nagy teljesítményű ferdefelhordó
Nyitható/csukható magtartályfedél
Mechanikusan állítható rosták
7500 literes magtartály
580 literes üzemanyagtartály
Szecskázó jó állapotú késekkel

Magyar első gazdától, nagyon megkímélt állapotban!
Szín alatt tárolt, folyamatosan karbantartott gép!
Saját kukorica és napraforgó aratást követően fogható, átvétel várható idejéről egyeztetés szükséges.

Kedvező Széchenyi lízingre is, FIX, FORINT alapú kamatozással!!!
GÉPTÖRÉS ÉS VAGYONBIZTOSÍTÁS: Szinte minden kockázatra kiterjedő, egyedi géptörés és vagyonbiztosítási konstrukciók igénybe vehetők.

A gépet az Agro Partner Magyarország Kft. hirdeti! Több, nagy felbontású képért keressenek minket elérhetőségeinken.

A leírás tájékoztató jellegű. A változtatás, tévedés és elírás jogát fenntartjuk. Jelen hirdetés nem minősül ajánlattételnek.

GÉP – LÍZING – BIZTOSÍTÁS – FUVAR
Important
This offer is for guidance only. Please request more precise information from the seller.
Safety tips
Seller's contacts
Somorjai Gábor
Languages:
English, Hungarian
Hungary, 6710, Szeged, Fehérpart utca 4
Seller's local time: 17:08 (CEST)
Selling machinery or vehicles?
You can do it with us!