New LOADER Ti car mini tractor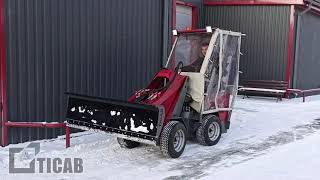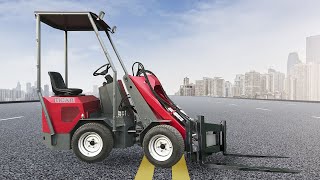 1/13
Location
Poland
35-105 Rzeszów
Description
Overall dimensions
242 m × 105 m × 208 m
Need delivery?
Calculate the cost of delivery
Loader TI-CAR universal working machine. The stable boom makes it easy and safe to lift loads with pallet forks. Adjustable steering wheel and comfortable seat suspension reduce travel fatigue. The dual pedal control system allows you to control the movement with amazing precision, even with whimsical attachments and difficult terrain.
TI-CAR is an effective tool for various types of work in construction, agriculture, public utilities, alternating body loading, snow removal, soil moving, cargo transport, surface leveling.
TI-CAR utility tractors are multi-purpose compact machines for various applications. With nearly 30 quick coupler attachments, the TI-CAR is the most capable machine on the market.

Buying a Ti-car mini universal loader from TM Ticab is the best solution for you! Interested in price? Contact our managers to get an individual price offer!

Performance

Breakout force 50 cm (kg) :900
Tipping load, straight (kg): 750
Tipping load, articulated (kg): 490
Operating weight (kg) : 960
Travel speed (km/h) :0-13

Specifications:

Engine - Kubota (Japan), model - 1105;
cylinders - 3,
cooling system - liquid
fuel type - diesel;
hydraulics - Hansa (Italy),
power 19.5 kW.
Dimensions
2400L*1005W*2010H mm
Item in stock
We also invite you to become dealers.
Mini-Traktor TI-CAR Universal-Arbeitsmaschine. Der stabile Ausleger macht das Heben von Lasten mit Palettengabeln einfach und sicher. Das verstellbare Lenkrad und die bequeme Sitzfederung reduzieren die Ermüdung auf Reisen. Das Doppelpedal-Steuerungssystem ermöglicht es Ihnen, die Bewegung mit erstaunlicher Präzision zu steuern, selbst mit skurrilen Anbaugeräten und schwierigem Gelände.
TI-CAR ist ein effektives Werkzeug für verschiedene Arten von Arbeiten im Bauwesen, in der Landwirtschaft, in Versorgungsunternehmen, bei wechselnder Beladung von Karosserien, Schneeräumung, Erdbewegung, Frachttransport und Oberflächenplanierung.
TI-CAR Kompakttraktoren sind kompakte Mehrzweckmaschinen für verschiedene Anwendungen. Mit fast 30 Schnellwechslern ist der TI-CAR die leistungsstärkste Maschine auf dem Markt.


Leistung

Ausbrechkraft 50 cm (kg): 900
Kipplast gerade (kg): 750
Kipplast geknickt (kg): 490
Betriebsgewicht (kg): 960
Fahrgeschwindigkeit (km/h): 0-13

Technische Eigenschaften:

Motor - Kubota (Japan), Modell - 1105;
Zylinder - 3,
Kühlsystem - Flüssigkeit
Kraftstofftyp - Diesel;
Hydraulik - Hansa (Italien),
Leistung 19,5 kW.
Maße
2400L*1005B*2010H mm
Mini tractor TI-CAR máquina de trabajo universal. La pluma estable hace que sea fácil y seguro levantar cargas con horquillas para paletas. El volante ajustable y la cómoda suspensión del asiento reducen la fatiga del viaje. El sistema de control de pedal dual le permite controlar el movimiento con una precisión asombrosa, incluso con implementos caprichosos y terrenos difíciles.
TI-CAR es una herramienta eficaz para varios tipos de trabajo en construcción, agricultura, servicios públicos, carga alterna de carrocerías, remoción de nieve, movimiento de suelos, transporte de carga, nivelación de superficies.
Los tractores utilitarios TI-CAR son máquinas compactas polivalentes para diversas aplicaciones. Con casi 30 accesorios de acoplamiento rápido, la TI-CAR es la máquina más capaz del mercado.


Rendimiento

Fuerza de arranque 50 cm (kg) :900
Carga de vuelco, recto (kg): 750
Carga de vuelco, articulada (kg): 490
Peso operativo (kg) : 960
Velocidad de viaje (km/h): 0-13

Especificaciones:

Motor - Kubota (Japón), modelo - 1105;
cilindros - 3,
sistema de refrigeración - líquido
tipo de combustible - diesel;
hidráulica - Hansa (Italia),
potencia 19,5kW.
Dimensiones
2400L*1005W*2010H milímetromilímetro
Nous sommes une société polonaise TICAB qui vend des équipements spéciaux dans 50 pays du monde.

Le chargeur Ti-Car polyvalente de la société polonaise TICAB est une machine de travail universelle qui vous permet une large gamme de travaux.

La flèche robuste permet de soulever facilement et en toute sécurité des charges avec des fourches à palettes. Le volant réglable et la suspension confortable du siège réduisent la fatigue de conduite. Le système de commande à double pédale vous permet de contrôler le déplacement avec une grande précision, même avec des accessoires méticuleux et des terrains difficiles.

Le TI-CAR est un outil efficace pour divers types de travaux dans le domaine de la construction, de l'agriculture et des services publics, le chargement alterné de caisse, le déneigement, le terrassement, le transport de charges et nivellement du sol.

Les tracteurs utilitaires TI-CAR sont des machines polyvalentes et compactes destinées à différentes applications. Nous vendons les accessoires séparément - godet, godet à mâchoires, fourches, fourches à ensilage, lame de remblayage, balai, brosse avec trémie et brosse latérale.

Principaux paramètres de performance :

Charge de rupture 50 cm (Kg) : 900

Charge de basculement, droite (kg) : 750

Charge de basculement, articulée (kg) : 490

Poids opérationel (kg) : 960

Vitesse de déplacement (km/h) : 0 à 13

Hauteur de levage (godet, fourches) : -2.1m


Spécifications techniques :

Moteur : Kubota (Japon)

Modèle – 1105

Cylindres - 3

Type de carburant - Diesel

Volume du cylindre (cm³) - 1123

Système de refroidissement - liquide

Hydraulique - Hansa (Italie),

Puissance SAE, puissance brute (kW / ch) - 19,4 / 26,4

Transmission intégrale

Dimensions -242*105*208 (L*L*H)
Mini trattore TI-CAR macchina da lavoro universale. Il braccio stabile rende facile e sicuro il sollevamento di carichi con le forche per pallet. Il volante regolabile e la comoda sospensione del sedile riducono l'affaticamento del viaggio. Il sistema di controllo a doppio pedale ti consente di controllare il movimento con una precisione sorprendente, anche con accessori stravaganti e terreni difficili.
TI-CAR è uno strumento efficace per vari tipi di lavoro in edilizia, agricoltura, utilities, carico alternato cassone, sgombero neve, movimento terra, trasporto merci, livellamento superfici.
I trattori utilitari TI-CAR sono macchine compatte multiuso per varie applicazioni. Con quasi 30 attacchi rapidi, la TI-CAR è la macchina più capace sul mercato.


Prestazione

Forza di strappo 50 cm (kg): 900
Carico di ribaltamento rettilineo (kg): 750
Carico di ribaltamento articolato (kg): 490
Peso operativo (kg): 960
Velocità di viaggio (km/h): 0-13

Specifiche:

Motore - Kubota (Giappone), modello - 1105;
cilindri - 3,
sistema di raffreddamento - liquido
tipo di carburante - diesel;
idraulica - Hansa (Italia),
potenza 19,5kW.
Dimensioni
2400L*1005L*2010H mm
O empilhador TI-CAR é uma máquina de trabalho versátil. O braço robusto permite a elevação fácil e segura de cargas com garfos de paletes. Volante regulável e suspensão confortável do assento reduzem a fadiga de viagem. O sistema de direcção de pedal duplo permite controlar viagens com uma precisão fantástica, mesmo com fixações fastidiosas e condições de solo difíceis.
O TI-CAR é uma ferramenta eficiente para uma variedade de trabalhos na construção, agricultura e serviços municipais, com cargas alternadas no corpo, remoção de neve, terraplanagem, transporte de carga e nivelamento de superfície.
Os tractores utilitários TI-CAR são máquinas versáteis e compactas para uma vasta gama de aplicações. Cerca de 30 itens de anexos de troca rápida fazem da TI-CAR as máquinas mais funcionais do mercado.
Comprar o mini carregador universal Ti-car TM Ticab - é a melhor decisão para si! Interessado no preço? Contacte os nossos gestores para um orçamento individual!
Produtividade
Carga de ruptura 50 cm (kg) :900
Carga de basculamento, direita (kg) : 750
Carga de basculamento, articulada (kg) : 490
Peso da condição de trabalho (kg): 960
Velocidade de viagem (km/h) : 0-13
Características técnicas:
Motor - Kubota (Japão), modelo - 1105;
cilindros - 3,
sistema de arrefecimento - líquido
tipo de combustível - gasóleo;
Hidráulica - Hansa (Itália),
potência - 19,5 kW.
Dimensões
2400D*1005Sh*2010B mm
Traduzido com a versão gratuita do tradutor -
show contacts
Погрузчик TI-CAR универсальная рабочая машина. Стойкая стрела позволяет легко и безопасно выполнять подъем грузов паллетными вилами. Регулируемое рулевое колесо и удобная подвеска сиденья снижают усталость от поездок. Система управления двумя педалями позволяет контролировать движение с потрясающей точностью даже с прихотливым навесным оборудованием и сложным рельефом грунта.
TI-CAR является эффективным инструментом для различных видов работ в строительстве, сельском хозяйстве, коммунальной сфере, с чередованием загрузки в кузов, уборки снега, перемещения грунта, транспортировки груза, выравнивания поверхности.
Коммунальные трактора TI-CAR - многоцелевые компактные машины для различных сфер применения. Почти 30 наименований быстросменного навесного оборудования делает TI-CAR наиболее функциональными машинами на рынке.

Купить мини универсальный погрузчик Ti-car от ТМ Ticab — это оптимальное решение для вас! Интересует цена? Связывайтесь с нашими менеджерами, чтобы получить индивидуальное ценовое предложение!

Производительность

Усилие отрыва 50 см (кг) :900
Опрокидывающая нагрузка, прямая (кг) : 750
Опрокидывающая нагрузка, шарнирно-сочлененная (кг) : 490
Вес в рабочем состоянии (кг) : 960
Скорость движения (км / ч) :0-13

Технические характеристики:

Двигатель - Kubota (Япония), модель - 1105;
цилиндры - 3,
система охлаждения - жидкость
тип топлива - дизель;
гидравлика - Hansa (Италия),
мощность 19,5 кВт.
Габариты
2400Д*1005Ш*2010В мм
Есть дилеры в России.
Также предлагаем вам стать дилерами.
Mini traktör TI-CAR evrensel çalışma makinesi. Dengeli bom, palet çatallarıyla yükleri kaldırmayı kolay ve güvenli hale getirir. Ayarlanabilir direksiyon simidi ve konforlu koltuk süspansiyonu seyahat yorgunluğunu azaltır. Çift pedallı kontrol sistemi, tuhaf ataşmanlar ve zorlu arazilerde bile hareketi inanılmaz bir hassasiyetle kontrol etmenizi sağlar.
TI-CAR, inşaat, tarım, kamu hizmetleri, alternatif gövde yükleme, kar temizleme, toprak taşıma, kargo taşımacılığı, yüzey tesviye gibi çeşitli işler için etkili bir araçtır.
TI-CAR ticari traktörler, çeşitli uygulamalar için çok amaçlı kompakt makinelerdir. Yaklaşık 30 hızlı ataşman ataşmanıyla TI-CAR, piyasadaki en yetenekli makinedir.

TM Ticab'dan bir Ti-car mini evrensel yükleyici satın almak sizin için en iyi çözüm! Fiyatla ilgileniyor musunuz? Bireysel fiyat teklifi almak için yöneticilerimizle iletişime geçin!

Verim

Koparma kuvveti 50 cm (kg) :900
Devirme yükü, düz (kg): 750
Devrilme yükü, mafsallı (kg): 490
Çalışma ağırlığı (kg) : 960
Seyir hızı (km/s) :0-13

Özellikler:

Motor - Kubota (Japonya), model - 1105;
silindirler - 3,
soğutma sistemi - sıvı
yakıt tipi - dizel;
hidrolik - Hansa (İtalya),
güç 19,5 kW.
Boyutlar
2400L*1005W*2010H mm
Навантажувач TI-CAR - універсальна робоча машина. Стійка стріла дозволяє легко та безпечно виконувати підйом вантажів палетними вилами. Регульоване кермо і зручна підвіска сидіння знижують втому від поїздок. Система управління двома педалями дозволяє контролювати рух із приголомшливою точністю навіть з вибагливим навісним обладнанням та складним рельєфом ґрунту.
TI-CAR є ефективним інструментом для різних видів робіт у будівництві, сільському господарстві, комунальній сфері, з чергуванням завантаження в кузов, збирання снігу, переміщення ґрунту, транспортування вантажу, вирівнювання поверхні.
Комунальні трактори TI-CAR – багатоцільові компактні машини для різних сфер застосування. Майже 30 найменувань швидкозмінного підвісного обладнання робить TI-CAR найбільш функціональними машинами на ринку.

Купити міні універсальний навантажувач Ti-car від ТМ Ticab – це оптимальне рішення для вас! Цікавить ціна? Зв'язуйтесь з нашими менеджерами, щоб отримати індивідуальну цінову пропозицію!

Продуктивність

Зусилля відриву 50 см (кг): 900
Перекидне навантаження, пряме (кг) : 750
Перекидне навантаження, шарнірно-зчленоване (кг) : 490
Вага в робочому стані (кг): 960
Швидкість руху (км/год): 0-13

Технічні характеристики:

Двигун – Kubota (Японія), модель – 1105;
циліндри - 3,
система охолодження – рідина
тип палива – дизель;
гідравліка - Hansa (Італія),
потужність 19,5 квт.
Габарити
2400Д*1005Ш*2010В мм
Також пропонуємо стати дилерами.
Ціна з ПДВ-15500 Євро.
迷你拖拉機 TI-CAR 萬能工作機。穩定的動臂使使用托盤叉提升負載變得容易和安全。可調節的方向盤和舒適的座椅懸架減少了旅行疲勞。雙踏板控制系統可讓您以驚人的精度控制運動,即使是異想天開的附件和困難的地形。
TI-CAR 是建築、農業、公用事業、交替裝載、除雪、土壤移動、貨物運輸、表面平整等各種工作的有效工具。
TI-CAR 實用拖拉機是適用於各種應用的多用途緊湊型機器。 TI-CAR 擁有近 30 個快速接頭附件,是市場上功能最強大的機器。


表現

挖掘力 50 cm (kg) :900
傾翻載荷,直線(kg):750
傾翻載荷,鉸接(公斤):490
工作重量(公斤):960
行駛速度(公里/小時):0-13

規格:

發動機 - 久保田(日本),型號 - 1105;
氣缸 - 3,
冷卻系統 - 液體
燃料類型 - 柴油;
液壓 - Hansa(意大利),
功率 19.5 千瓦。
方面
2400L*1005W*2010H 毫米
Important
This offer is for guidance only. Please request more precise information from the seller.
Safety tips
Seller's contacts
Ivan
Languages:
English, Turkish, Russian
Poland, Podkarpackie, 35-105 Rzeszów
Seller's local time: 11:03 (CEST)
Selling machinery or vehicles?
You can do it with us!