New TUTKUN KARDEŞLER KAPLAN 200 Stone picker rock picker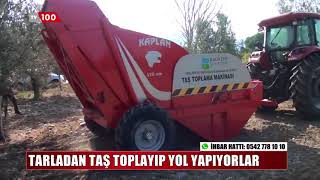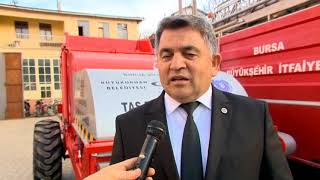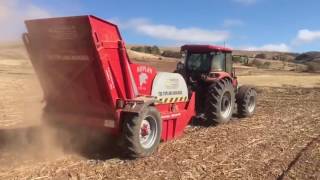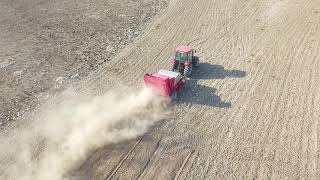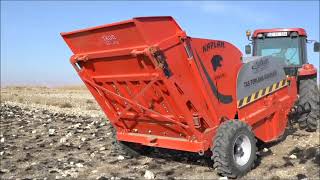 1/18
Model
KAPLAN 200 Stone picker
Location
Turkey
KONYA
Description
Volume of the tank
0.85 m³
Required tractor power
80 HP
Overall dimensions
520 m × 200 m × 255 m
Need delivery?
Calculate the cost of delivery
With TUTKUN Stone Picker you can easily remove and collect stones from cultivated land.
Stone Picker is a machine specially designed to collect stones on the surface and at a depth of 30cm in the field.
This machine can also be used in industrial areas to clean sites and also in cleaning beach sand.
Stone Picker 200cm working width, collects easily stones from 3cm size to 40cm, the extra soil and smaller stones go through the sieve and back onto the ground.
Thanks to the Hydraulic Unloading System, you can discharge stones directly into a dump trailer, a truck or in the corner of the field.
KAPLAN Stone Picker is made of high quality material and thanks to its solid structure it will serve you for a long working life.
Thanks to the vibrating screen, it provides easy operation even in moist soil.
It does not take soil to its store, it easily removes the soil and increases the ability of the tractor without difficulty and thus saves fuel on the tractor.
Thanks to the newly designed drum system, it prevents spring breakage.
It is designed to allow long life of parts and easy replacement of worn parts.
مع آلة جمع الحجارة TUTKUNيمكنك جمع الحجارة بسهولة في الحقول.
آلة جمع الحجارة هي آلة صنعت خصيصا لجمع الحجارة من على السطح ومن على عمق 30 سم.
ويمكن استخدام هذه الآلة في المناطق الصناعية، ولجمع الحجارة من المواقع، وأيضا في تنظيف الشواطئ الرملية.
آلة جمع الحجارة بعرض 200 سم، تجمع بسهولة الحجارة من حجم 3 سم إلى 40 سم, وتقوم من خلال الغربال بمزج التربة والحجارة بحجم أصغر من 3 سم في الأرض مرة أخرى.
وبفضل نظام التفريغ الهيدروليكي، يمكنك تفريغ الحجارة في مقطورة، في شاحنة أو في ركن من أركان الحقل.
آلة جمع الحجارة هذه مصنوعة من مواد ذات جودة عالية, وبفضل هيكلها الصلب سوف تقوم بخدمتك على طول سنوات عديدة.
Avec notre épierreuse de marque TUTKUN, vous pouvez facilement collecter les pierres dans les champs.
C'est une machine spécialement fabriquée pour ramasser les pierres de la surface des champs, et jusqu'à une profondeur de 30cm.
Cette machine peut servir dans les zones industrielles, des sites divers, et aussi peut être utilisée à nettoyer le sable de la plage.
L'épierreuse KAPLAN 200cm de largeur de travail, collecte facilement les pierres d'une taille allant de 3cm jusqu'au 40cm, et mélange à nouveau le sol et les pierres de taille inférieure à 3cm à travers un tamis.
Grâce au système de déchargement hydraulique, vous pouvez vider les pierres dans une remorque, un camion ou dans le coin du champ.
L'épierreuse KAPLAN vous servira le long de nombreuses années grâce à sa structure solide et sa matière de haute qualité.
Tutkun Kardeşler Taş Toplama Makinası ile tarlanızdaki taşları kolay bir şekilde toplayabilirsiniz.
Taş Toplama Makinası tarlanızda 30 cm derinlikteki ve yüzeydeki taşları toplamak için özel olarak üretilmiş bir makinedir.
Bu makina aynı zamanda endüstriyel alanlardaki yapılanmalardaki sitelerdeki taşları toplamak ve plaj kumlarının temizliğinde de kullanılabilir.
Taş Toplama makinası 200cm, 175cm, 140cm iş genişliğinde, 3cm ile 40cm büyüklükteki taşları kolayca toplar.
Toprak ve 3cm'den küçük taşlar elekten tekrar toprağa karışır.
Hidrolik boşaltma sistemi sayesinde taşları römork, kamyon veya tarlanın köşesine boşaltabilirsiniz.
Taş Toplama Makinası sağlam yapısı ve yüksek kaliteli malzemeyle yapıldığı için uzun yıllar sizlere hizmet edecektir.
Titreşimli elek sayesinde nemli topraklarda dahi kolaylıkla çalışma imkanı sunar. Deposuna toprak almaz, toprağı kolayca elediği için traktörün zorlanmadan hareket kabiliyetini yükseltir ve böylece yakıttan tasarruf edilmesini sağlar.
Yeni tasarlanan tambur sisteminin sayesinde yay kırılması önlenmiştir. Parçaların uzun ömürlü olmasını ve aşınan parçaların kolayca değişimine imkanı sağlayacak şekilde tasarlanmıştır.
Important
This offer is for guidance only. Please request more precise information from the seller.
Safety tips
Seller's contacts
ALİ BUĞRA
Languages:
English, French, Turkish, Spanish, Arabic
Turkey, 42550, KONYA, Akşehir Organize Sanayi Bölgesi - 5.sokak No: 20 – AKŞEHİR
Seller's local time: 16:59 (+03)
Selling machinery or vehicles?
You can do it with us!